Taken directly from: http://www.nndb.com/people/404/000093125/
Queen Mary II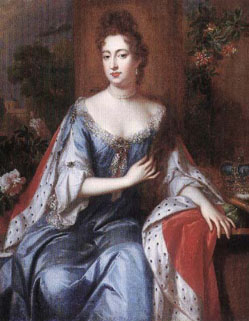 AKA Mary Stuart
Born: 30 April 1662
Birthplace: St. James's Palace, London, England
Died: 28 December 1694
Location of death: Kensington Palace, London, England
Cause of death: Illness
Remains: Buried, Westminster Abbey, London, England
Gender: Female
Religion: Anglican/Episcopalian
Race or Ethnicity: White
Sexual orientation: Straight
Occupation: Head of State, Royalty
Nationality: England
Executive summary: Queen of England 1689-94
Mary II, Queen of England and wife of King William III, elder daughter of James, Duke of York, afterwards King James II, by his first wife, Anne, daughter of Edward Hyde, 1st Earl of Clarendon, was born in London on the 30th of April 1662. She was educated as a Protestant, and as it was probable that she would succeed to the English throne after the deaths of her uncle, King Charles II, and her father, the choice of a husband for her was a political event of high importance. About 1672 the name of William, prince of Orange, was mentioned in this connection; and after some hesitation on both sides caused by the condition of European politics, the betrothal of William and Mary took place in October 1677, and was quickly followed by their marriage in London on the 4th of November.
Mary's married life in Holland does not appear to have been a happy one. Although she soon became popular among the Dutch, she remained childless, while William treated her with neglect and even with insult; and her troubles were not diminished after her father became King of England in 1685. James had treated his daughter very shabbily in money matters; and it was increasingly difficult for her to remain loyal to both father and husband when they were so divergent in character and policy. Although Mary never entirely lost her affection for her father the wife prevailed over the daughter; and after the birth of her half-brother, the Prince of Wales, in 1688, she regarded the dethronement of James as inevitable. It cannot be said, however, that William merited this confidence. Possibly he was jealous of his wife as the heiress of the English throne, contrasting her future position with his own; but according to Burnet, who was then staying at the Hague, this cause of difference was removed by the tactful interference of Burnet himself. The latter asserts that having divined the reason of the prince's jealousy he mentioned the matter to the princess, who in her ignorance of statecraft had never considered the relative positions of herself and her husband with regard to the English throne; and that Mary, by telling the prince she would be no more but his wife, and that she would do all that lay in her power to make him king for life (Burnet, Supplement, ed. Foxcroft, p. 309), probably mollified her husband's jealousy. On the other hand Macaulay's statement that henceforward there was "entire friendship and confidence" between them must be taken with some reserve. Mary shared heartily in the events which immediately preceded William's expedition to England in 1688. After the success of the undertaking she arrived in London in February 1689; and by her faithful adherence to her promise made a satisfactory settlement of the English crown possible. William and Mary were together proclaimed King and Queen of England, and afterwards of Scotland, and were crowned on the 11th of April 1689.
During the king's absence from England the queen, assisted by a committee of the privy council, was entrusted with the duties of government, duties which she performed faithfully, but which she gladly laid down on William's return. In these times of danger, however, she acted when necessary with courage and promptitude, as when in 1690 she directed the arrest of her uncle Henry Hyde, 2nd Earl of Clarendon; but she was constantly anxious for William's safety, and unable to trust many of her advisers. She was further distressed by a quarrel with her sister Anne in 1692 following the dismissal of Marlborough, and this event somewhat diminished her popularity, which had hitherto been one of the mainstays of the throne. Weak in body and troubled in mind, the queen died at Kensington Palace from smallpox on the 28th of December 1694, and was buried in Westminster Abbey.
Mary was a woman of a remarkably modest and retiring disposition, whose outstanding virtue was perhaps her unswerving loyalty to William. Burnet has passed a remarkable panegyric upon her character. She was extremely pious and charitable; her blameless private life was in marked contrast with her surroundings, both in England and Holland; without bigotry she was greatly attached to the Protestant faith and to the Church of England; and she was always eager to improve the tone of public morals, and to secure a better observance of Sunday. Greenwich Hospital for Seamen was founded in her honor.
Father: King James II
Mother: Lady Anne Hyde (d. 1671)
Sister: Queen Anne
Husband: King William III (King of England, m. 4-Nov-1677)
UK Monarch: 13 February 1689 to 28 December 1694