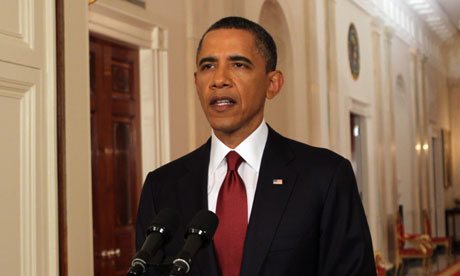 "Today, at my direction, the United States launched a targeted operation against that compound in Abbottabad, Pakistan. A small team of Americans carried out the operation with extraordinary courage and capability. No Americans were harmed. They took care to avoid civilian casualties. After a firefight, they killed Osama bin Laden and took custody of his body," President Obama said late Sunday evening.
direction – leadership or management
targeted – aimed at something or someone, having an objective
compound – an enclosed area where a particular group of people live or work
to carry out – to do a particular piece of work, research, operation, etc..
harmed – hurt, injured, damaged
a casualty – someone who is injured or killed in an accident or military action
a firefight – an exchange of gun fire
to take custody of something - to take possession of